Description
With more than 1 billion multiplayer matches played each month, Xbox Live is built for performance, speed, and reliability. And with ongoing service enhancements and new features, it just keeps getting better.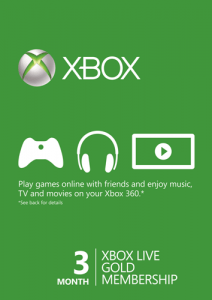 Get up to $700 in free games during a year of membership including backward compatible Xbox 360 games for your Xbox One.
Each week, Xbox Live Gold members can save up to 50-75% on games, add-ons, and more.
Buy Xbox Live Gold 3 month Gift card with Crypto

Powered by hundreds of thousands of servers, Xbox Live delivers maximum performance while reducing lag and cheating. Experience the most advanced multiplayer on a network built for speed and reliability.
Read more about Xbox Live Gold Gift card 3 Month here.
Any more questions about how to Buy Xbox Live Gold 3 month card with Litecoin ? contact us by sending a ticket or a message on chat support.